Ripped or muscular animals are really fascinating, and a glance at them can easily make our jaws drop. These powerful animals have immense muscular strength and showcase undeniably deadly features.
These muscular animals have ubiquitous distribution across dense jungles or deep oceans and share common features of immense strength and power.
What is the meaning of well-defined or ripped muscles in animals?
Well-defined or ripped muscles in animals are the result of the presence of more toned muscles and a high percentage of muscle mass contributing to the overall weight of the animal.
Well-defined muscles could also be understood as strong, completely developed, toned muscles that can even be observed through the skin.
Hairless apes, such as gorillas and chimpanzees, look more muscular and have a toned look, but this happens because of a disease called "alopecia," which makes them look more muscular and ripped.
10+ Animals With Well-Defined Muscles
1) Gorilla
| | |
| --- | --- |
| Scientific Name | Gorilla |
| Size | 1.25 and 1.8 metres |
| Life Span | 35-40 years |
| Location | Equatorial Africa |
| Diet | plant-based foods, such as stems, fruits, and bamboo shoots. |
Gorillas are well-built, muscular animals weighing up to 230 kg and can lift weights anywhere around 1,800 kg, estimated to be 27 times their body weight.
They indulge in very ferocious fights by breaking bones and biting off flesh; additionally, a punch from a gorilla is powerful enough to crush the skull of any human.
Evidently, they have toned muscles on the shoulder, chest, limbs, and hindquarters; moreover, they even flaunt their six-pack abs.
The hairless gorilla breed that we have taken looks more muscular because their toned muscles could easily be observed through their skin; it is due to loss of hair from the autoimmune disease known as alopecia.
It is known that the muscle mass density of gorillas is an amazing 37 percent.
---
2) Tiger
| | |
| --- | --- |
| Scientific Name | Panthera tigris |
| Size | 220 to 310 cm (87 to 122 in) |
| Life Span | 8-10 years |
| Location | Indian subcontinent, Indochina and an Indonesian island, Sumatra. |
| Diet | Large animals, such as deer, wild boar, pigs, moose, cows, horses, goats, buffalo, etc. |
Tigers are undoubtedly known as the most muscular animals on planet Earth and have muscular bodies; they are also one of the biggest animals.
Their impeccable muscular strength outmatches that of lions, and they are considered to have a noxious range of musculature over total body mass, which is typically estimated to be around 56–59%.
Though they weigh up to 650 pounds, they have great agility and flexibility because of their powerful muscular bodies and limbs, and on account of this, they are also able to take prey that is much larger than them in terms of size.
The distribution of muscles across their bodies is very balanced and is supported by their incredibly strong legs.
Apart from their bodies, they have powerful claws, strong jaws, and big teeth, making them deadly predators and easily crush bones.
---
3) Belgian Draft Horse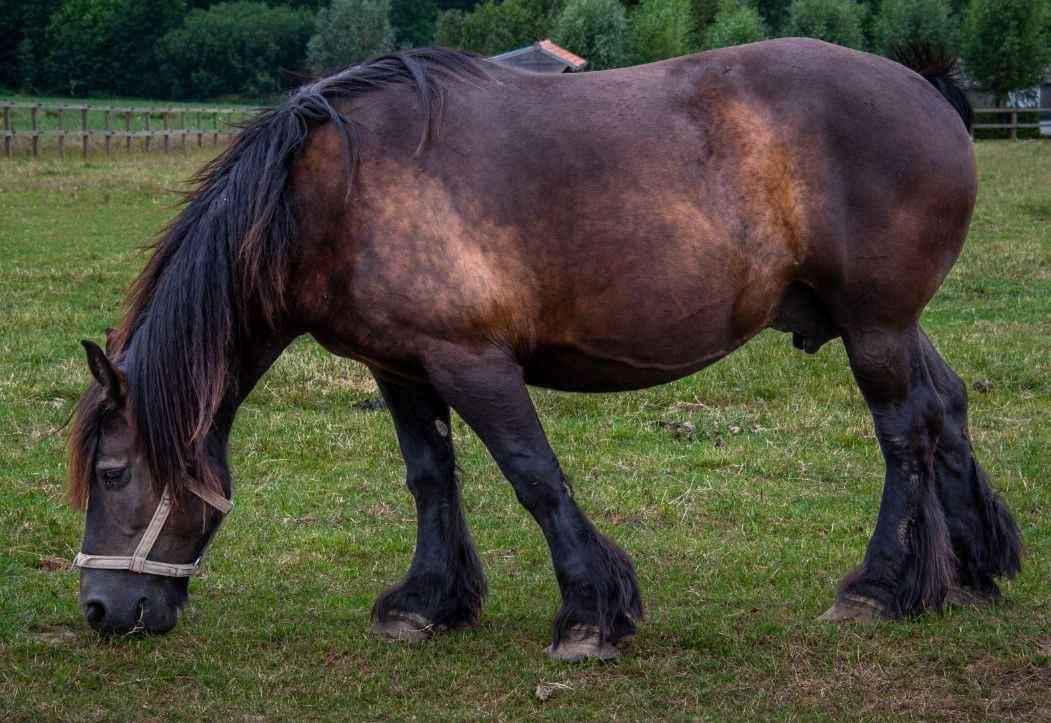 | | |
| --- | --- |
| Scientific Name | Equus ferus caballus |
| Size | 163-193 cm (64-76 in) |
| Life Span | 15-20 years |
| Location | North America, primarily US, and Europe. |
| Diet | hay, pasture, hay cubes or pellets, as well as oats, corn, and rolled barley. |
Draft horses are tall, heavy-bodied horses with a ponderous muscular build coupled with strong legs and thick necks—ideal for carrying weights.
They are working horses, which are used for a variety of purposes in farming and for other laborious works.
Undoubtedly, they can pull enormous amounts of weight, up to two to three times their body weight, which roughly equals 6,000–8,000 pounds, and are known to carry 20 percent of their body weight.
Apart from being heavy horses, they have powerful bites and deadly kicks as they have wide backs and strong hindquarters.
They are very docile creatures and have distinctive hairy legs full of feathers, which serve the function of protection.
---
4) Indian bison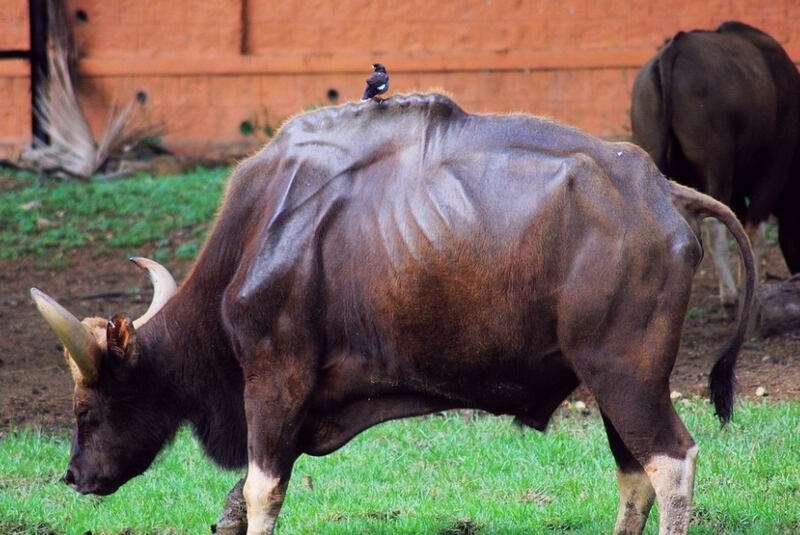 | | |
| --- | --- |
| Scientific Name | Bos gaurus |
| Size | 250 to 330 cm (8 ft 2 in to 10 ft 10 in) |
| Life Span | Up to 30 years. |
| Location | Mainland South and Southeast Asia, except Sri Lanka. |
| Diet | Herbs, shrubs, grasses, and plant matter. |
The Indian bison, commonly known as "Gaur," is the largest and tallest bison and the largest of all wild cattle.
They are overall very muscular and have a powerful, large muscular hump on their back just behind their shoulders. Along with these features, they have very sturdy and powerful limbs, which add to their muscular power.
Moreover, a high ridge is present between their dangerously large and curved horns on their foreheads.
Due to their enormously large bodies and muscular build, they are able to defend themselves against a large number of predators, and even though they are thought to be docile, they sometimes prove to be deadly to their predators, including humans.
Apart from this, they are prey to very few animals, which include leopards, tigers, and large mugger crocodiles.
Males of these species are bigger and more ripped than females.
---
5) White Rhinoceros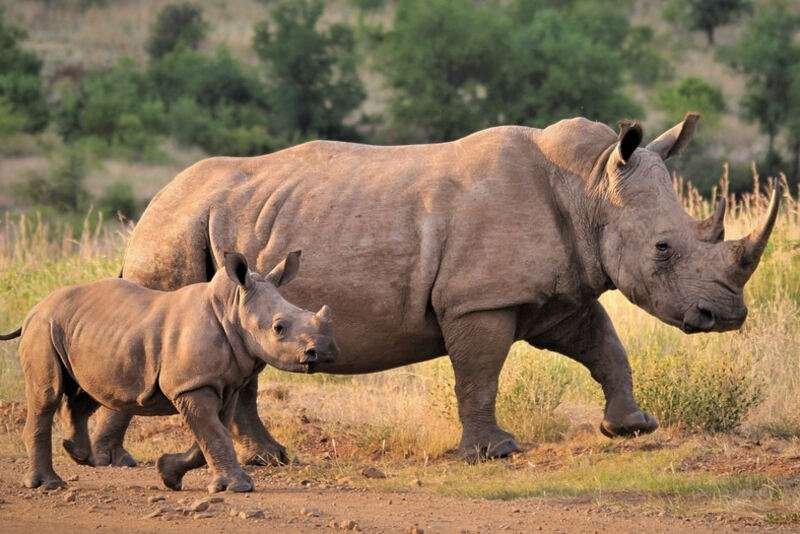 | | |
| --- | --- |
| Scientific Name | Ceratotherium simum |
| Size | 3.5–4.6 m (11–15 ft) |
| Life Span | 40-50 years |
| Location | South Africa, Namibia, Zimbabwe, and Kenya. |
| Diet | Feeds exclusively on grass. |
Rhinos are huge and one of the strongest animals that got their name from the horn-like, pointed appendages present on their nose.
Rhinos are very big and bulky animals that can weigh up to 3 tons, and the white rhinoceros species is the second largest species of mammals present on land after elephants. They have a 1,000-pound muscular hump on their neck and shoulders to support their large heads.
To bust your myth, these creatures do not use their horns in order to defend themselves; in fact, they use their large muscular bodies and lower incisors, as well as their agile speed, in their defense.
They are so strong that they can knock over any vehicle filled with people with ease, and if you want to know how strong they are, just remember that they are 10 times stronger than lions and as much as 25 times more powerful than humans.
---
6) Boer goat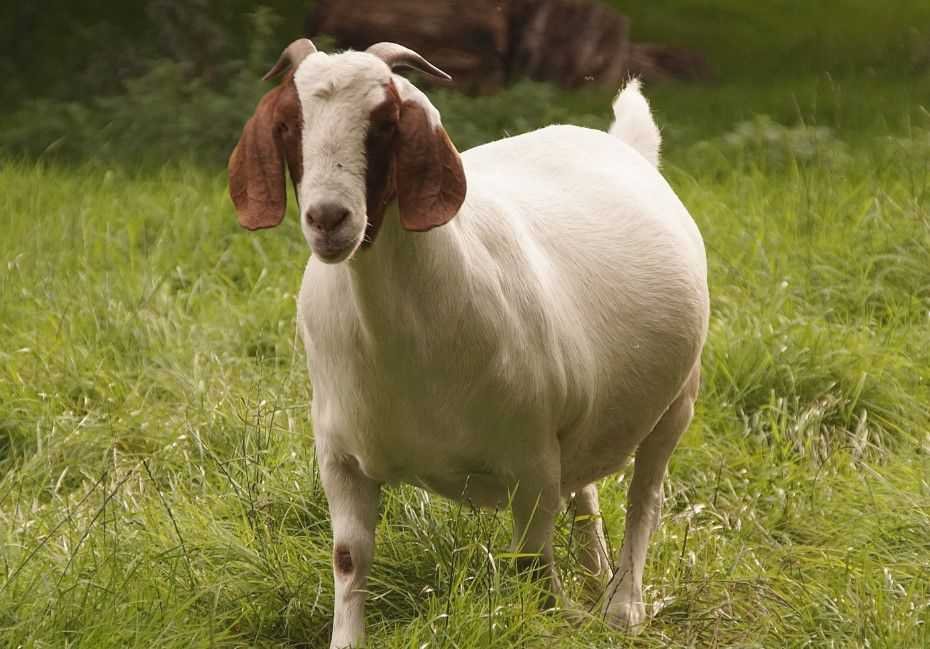 | | |
| --- | --- |
| Scientific Name | Capra aegagrus hircus |
| Size | 70-78 cm (27-30 in) |
| Life Span | 12-20 years. |
| Location | Southern Africa |
| Diet | Barley, maize, oats, pearl millet, rice, and wheat. |
Next, we have Boer goats, which are the most muscular and ripped variety of goats and are famous for the quality of their carcasses.
They are large and chunky goats with muscular white bodies, big brown heads, wide necks and shoulders, broad chests, and horns that curve backwards.
Boers are the largest species of goats and can weigh as much as 200 pounds.
The limbs and hindquarters are stocky and well-placed, which enhances their overall body strength.
Moreover, rapid weight gain is seen under feedlot conditions in these goats, which benefits the breeders and consumers.
Their immense strength and speed allow them to move through rocky and sheer terrain elegantly.
Because of all these qualities, they are used in various entertainment shows and animal competitions.
---
7) Beluga Whale
| | |
| --- | --- |
| Scientific Name | Delphinapterus leucas |
| Size | 3-4.5 meters, or 11–15 feet long. |
| Life Span | 35-50 years. |
| Location | The Arctic Ocean. |
| Diet | Octopus, shrimp, clams, squid, crabs, snails, and sandworms, as well as a wide variety of fish, including salmon, eulachon, and flatfish. |
Belugas are all-white, robust, and stocky whales that have fusiform-shaped bodies and big globular heads.
Belugas are muscular animals with toned bodies; some specimens have recently been recorded flexing their ripped bodies and striking six-pack abs.
They have the excellent ability to dive underwater, reaching depths of 800 meters and staying there for up to 25 minutes; moreover, their strong buff muscles help them to swim backwards as well as raise and lower their "love handles."
These muscular whales have a bulbous melon on their heads that changes shape frequently while producing different kinds of sounds owing to their vocal nature.
They are also widely used in water parks or carnivals to perform various interesting acrobatics and show off their skills.
---
8) Musk Ox
| | |
| --- | --- |
| Scientific Name | Ovibos moschatus |
| Size | 1.1 – 1.5 meters. |
| Life Span | 12-20 years. |
| Location | Northern Canada, Greenland, and Alaska. |
| Diet | Grasses, lichens, mosses, Arctic willows, and woody plants. |
Muskox is a heavy-bodied, muscular animal that is characterized by the presence of long, shaggy, and double-coated hairs, which work as an insulator to protect these animals in the chilling climate of the Arctic.
They are stocky animals that prove deadly if threatened; in a herd, they charge towards their enemy and cooperatively handle predation by dogs or wolves.
Their massive bodies and sharp, curved horns, coupled with shoulder humps, prove to be deadly if engaged in a fight with an enemy or while defending themselves against predators.
It is usually advised to run if charged by musk oxen and not simply stand on the ground, as they pose serious threats to dogs and humans.
---
9) Grizzly bear
| | |
| --- | --- |
| Scientific Name | Ursus arctos horribilis |
| Size | 1 meter, approx. |
| Life Span | 20-25 years. |
| Location | Alaska and Northern Canada. |
| Diet | Fish (especially salmon), rodents, including carrion and ground squirrels, and hoofed animals, such as moose and deer. |
Grizzly bears are very strong and muscular animals that are known for their aggressive interactions with humans and other animals.
Their huge muscles add to their weight, which can potentially reach up to 800 pounds.
They are fearsome animals that bear strong claws and deliver deadly bites that measure at over 1160 psi and have the potential to crush a bowling bowl.
As a fact, grizzly bears generate their power from massive chunks of muscles that are directly attached to their backbone.
Their muscular strength can be imagined by their ability to lift a weight as much as 500 kg, which roughly equals 0.8 times their body weight.
---
10) Red Kangaroo
| | |
| --- | --- |
| Scientific Name | Macropus rufus |
| Size | 1.4 meters. |
| Life Span | 8 years. |
| Location | Australia |
| Diet | Variety of green herbage, such as herbs, shrubs, and flowering plants. |
Red kangaroos are the most muscular species of kangaroos, and some specimens with extremely ripped bodies present in captivity were recently recorded, creating a buzz among animal enthusiasts.
They are the world's largest marsupials, which have strong builds and gigantic amounts of force.
Due to their muscular bodies and ripped hind legs, which are in fact the most muscular legs of any known hopping animal, they can deliver incredibly powerful kicks with a force of almost 749 pounds!
They have agility reaching over 35 miles an hour, and can cover 25 feet in a single leap or reach up to 6 feet in a single jump.
Two males have often seen boxing using their muscular hind legs and can be seen leaning back on their powerful, sturdy tails in the course of a fight to win over their potential mate.
---
11) Belgian Blue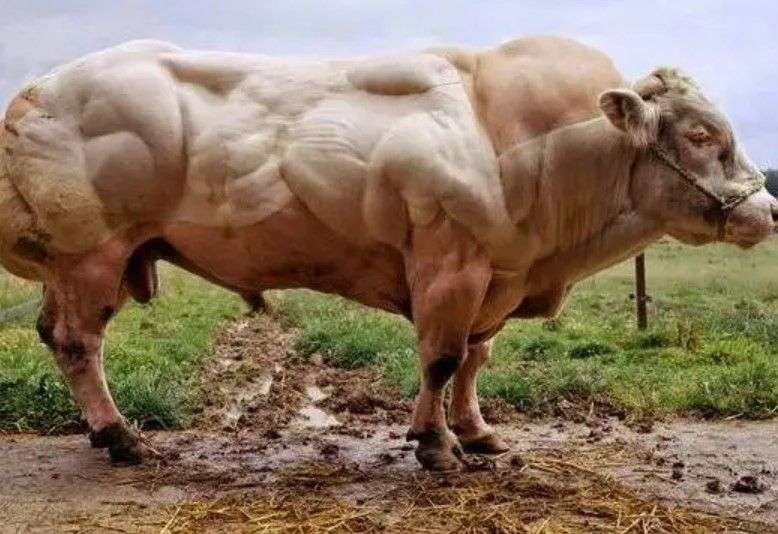 | | |
| --- | --- |
| Scientific Name | Bos taurus |
| Size | 132-148 cm |
| Life Span | Up to 20 years. |
| Location | Belgium. |
| Diet | Grains and all kinds of plant matter. |
Belgian blue bulls have a condition known as "double muscling" due to a lack of a muscle growth-regulating protein that resulted from a gene mutation.
As a result, in addition to their normal body muscle, they have an extra 40 percent muscle, most of which is edible lean meat that is healthier for consumption.
Belgian blue bulls are very heavy, and their weight ranges from 1100 to 1250 kg.
Their muscles are poorly distributed and concentrated at the shoulders, necks, chests, limbs, and hindquarters.
---
Conclusion:
We have learned a great deal from this article, including how some animals are naturally more muscular to aid in their active lifestyle of constant hunting, running, or even supporting their overall body weight.
On the other hand, some animals are bred in such a way that such genetic mutations occur in them to produce more muscles for producing meat or for performing different types of laborious work like pulling or ploughing the fields.
---
Also Read: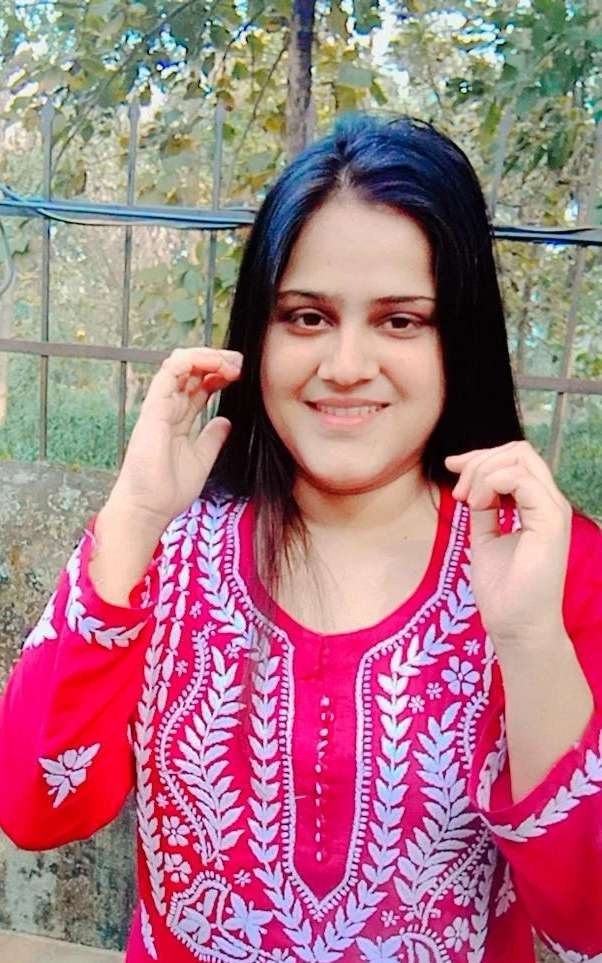 Hey there! I've been the kid who used to love watching all the science stuff and that fascination lead me to choose Zoology as my Major in Graduation. I'm a self-taught writer and spend my time writing scintillating content on animals. I love observing animals behavior and their bond with humans. I want to give my point of view regarding animals i research about. I had done several projects on animals during my graduation and learned their behavior thoroughly.