Today we have come up with an interesting article on Monkeys with Long Arms. Monkeys are surely fascinating creatures who are humans' close relatives and have a higher IQ and enhanced skills in comparison to most animals, the only exception being humans.
They are able to thrive in different kinds of environments because they are highly intelligent animals who have great agility, and their body features are also adapted and evolved in a manner that makes it easier to live and sustain themselves in the wild.
The feature of having long arms in monkeys evolved as a support system to help them jump or swing from tree to tree in search of food and to reach food with ease. Longer arms also help them balance while jumping and aid their movements; they also use their powerful, slender arms for swinging through branches.
What Monkey Has Long Arms?
There are many species of monkeys that have longer arms in comparison to their body sizes and are found in different types of habitats, such as tropical forests, subtropical forests, tropical rainforests, and others. Some species of monkeys with long arms are gibbons, spider monkeys, orangutans, mandrills, tarsiers, langurs, etc.
---
10 Monkeys With Longest Arms
1) Siamangs
| | |
| --- | --- |
| Scientific Name | Symphalangus syndactylus |
| Size | 1 meter (3.3 feet) |
| Fur Color | Dark black |
| Life Span | Up to 40 years. |
| Location | Sumatra and the Malay Peninsula. |
| Diet | Primarily, leaves and fruits, as well as insects, bird eggs, and small vertebrates |
Siamangs are the largest, black-furred gibbons who are expert swingers and match humans in having elongated limbs and fingers. They have long and slender yet powerful limbs, which also makes them different from other species of gibbons.
Their long and strong arms help them swing on trees and move from one tree to another. They also have the ability to grasp and transport things using their hands and feet.
The arm span of a siamang is undoubtedly large and has a length of 4.9 feet (1.5 meters).
Moreover, they are quite monogamous and have a unique throat sac that helps them become the loudest of all gibbons.
---
2) Black headed Spider Monkey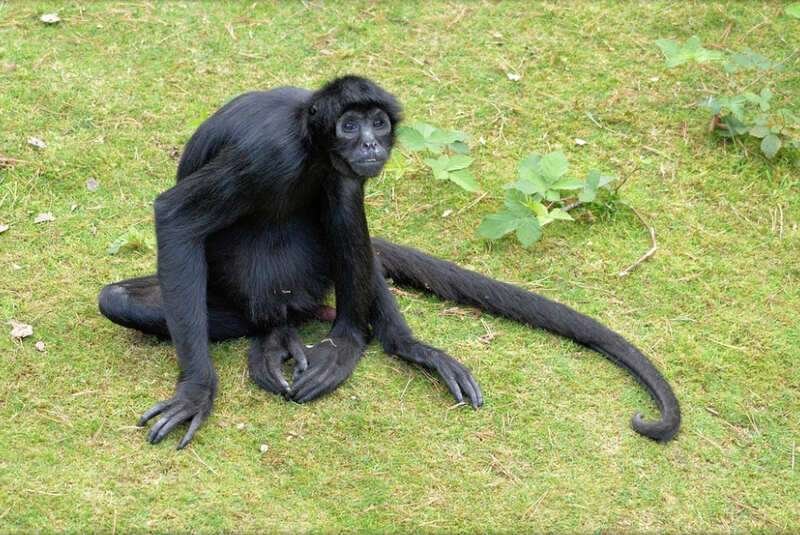 | | |
| --- | --- |
| Scientific Name | Ateles fusciceps |
| Size | 39.3 and 53.8 cm (15.5 and 21.2 in) |
| Fur Color | Dark black |
| Life Span | 25-40 years |
| Location | Central and South America. |
| Diet | Mostly ripe fruits and leaves, and occasionally seeds, flowers, bark, and insects |
Black-headed spider monkeys are diurnal and arboreal creatures that are quite social for New World monkeys.
The two subspecies of these monkeys have different coloration but the same physical features, like long arms and long legs.
They are great climbers that walk on all four of their legs, and their strong tails work no less than an extra limb for them; hence, they are named spider monkeys.
As their tail is extremely flexible and prehensile, it helps them in swinging and balancing on the branches and grasping foods using their hands.
Anyone would rarely see spider monkeys on the ground, as they spend most of their lives hanging among high treetops.
---
3) Woolly Spider Monkey
| | |
| --- | --- |
| Scientific Name | Brachyteles |
| Size | 45–63 cm (17–25 inches) |
| Fur Color | Brown and black or golden and cream. |
| Life Span | 24-30 years. |
| Location | Southeastern Brazil |
| Diet | Leaves, fruits, and flowers |
Woolly spider monkeys, or muriquis, are extremely rare monkeys that are found only within a limited geographical area.
In South America, they are the largest species of monkeys and share similar features with both woolly and spider monkeys.
They have physical features such as long arms and legs, a thick fur coat, a masculine body, a protruding belly, and reduced thumbs; moreover, they have hairless faces.
Muriquis are an extremely social and peaceful community of monkeys; they even have a morning ritual of hugging one another, and there is never any fighting or drama over food or sleeping places.
Although, as we mentioned, they are found in extremely fragmented or patchy forest habitats, they are listed as critically endangered species.
---
4) Proboscis Monkey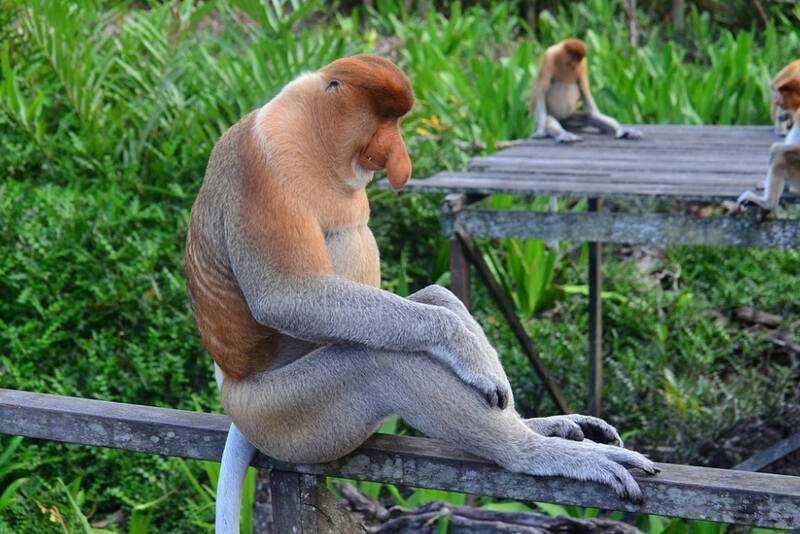 | | |
| --- | --- |
| Scientific Name | Nasalis larvatus |
| Size | 66 to 76.2 cm (26.0 to 30.0 in) |
| Fur Color | Brown and blue-gray. |
| Life Span | Up to 20 years. |
| Location | Jungles of Borneo. |
| Diet | Unripe fruits, seeds, leaves, and insects, occasionally. |
Proboscis monkeys are more commonly called long-nosed monkeys because of their notably long noses that could grow up to 7 inches, but only males have these long noses to attract females, who, on the other hand, have short noses, and their long noses also serve a function of producing loud bellowing sounds to send alarm signals.
The colorations of proboscis monkeys are diverse, and they can range from brilliant orange to pink to golden.
It is important to mention that they have sturdy physiques with long, toned arms and legs but bulging "pot-like" bellies.
The bulging of their bellies is due to their consumption of a lot of low-quality leaves in large amounts; this also inhibits them from consuming ripe fruits, as consumption of ripe fruits may lead to extreme bloating.
---
5) Golden Snub-nosed Monkey
| | |
| --- | --- |
| Scientific Name | Rhinopithecus roxellana |
| Size | 58-68 cm (22-26 in) |
| Fur Color | Golden-orange and black-gray. |
| Life Span | 20-25 years. |
| Location | Central china |
| Diet | Lichens, shrubs, vines, and insects |
Golden snub-nosed monkeys are Old World Monkeys who got their name from their deep golden red or golden brown colored fur and having a blunt, slightly turned-up nose.
They also have another distinctive feature, which is a pale blue face along with a flat nose.
Another remarkable feature about them is their extremely large arms. There are several videos of these monkeys circulating on the Internet in which we can observe them accepting food from humans and shaking hands with them.
These are highly social and friendly animals that are vocal too, as they can produce about 18 types of calls. They can withstand very low temperatures, and to conserve heat, they huddle together in clusters while sleeping.
---
6) Bornean Orangutan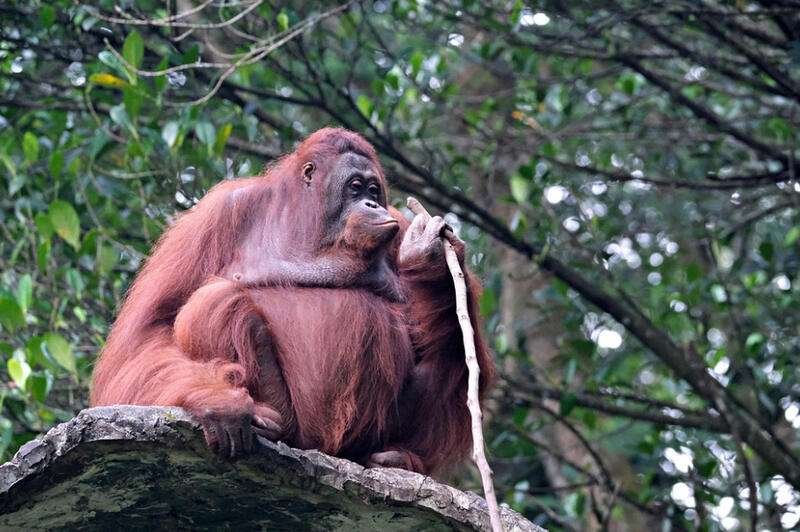 | | |
| --- | --- |
| Scientific Name | Pongo pygmaeus |
| Size | 1.2–1.7 m (3.9–5.6 ft) |
| Fur Color | Maroon |
| Life Span | More than 50 years. |
| Location | Island of Borneo. |
| Diet | More than 400 types of foods, including figs, leaves, eggs, flowers, honey, fungi, and even nutrient-rich soil and spider webs. |
Bornean orangutans have extremely long hands, and their arm span is an amazing 2.5 meters long. In comparison to their legs, their hands are 1.5 times longer and may reach up to their ankles while standing.
Their long arms help them swing from branch to branch, along with walking, which they rarely do. It is also stated that they have very powerful arm muscles and are almost seven times stronger than humans, though they might lose a fight against gorillas.
They have orange to brown fur coats, and they have the widest faces of all orangutans.
---
7) Celebes Crested Macaque
| | |
| --- | --- |
| Scientific Name | Macaca nigra |
| Size | 44-60 cm (17-24 in) |
| Fur Color | Shiny black |
| Life Span | 15-20 years |
| Location | Indonesian island of Sulawesi, Celebes. |
| Diet | Plants matter, mainly fruits, as well as some invertebrates. |
Celebes Crested Macaques, or crested black macaques, are Old World Monkeys that have unusually large faces and funny smiles.
They have long bodies with long arms and legs; moreover, they also have an elongated face with long canines, which they usually use to show dominance while yawning or when encountering their enemy.
A striking feature about these monkeys that makes them different from other monkeys is their short tails that shorten to a 2 cm nubbin, and due to this, they are often mistaken to be apes.
They are terrestrial monkeys, which can be seen spending more than 60 percent of their daytime foraging for food and interacting with one another while the rest of the time they sleep and locate food on trees.
---
8) Gray Langur
| | |
| --- | --- |
| Scientific Name | Semnopithecus |
| Size | 51 to 79 cm (20 to 31 in). |
| Fur Color | Yellowish-gray |
| Life Span | 18-30 years. |
| Location | The Indian Subcontinent |
| Diet | Primarily leaves and fruits. |
Gray Langurs, or Hanuman Langurs, are terrestrial Old World Monkeys that inhabit deserts, tropical rainforests, coniferous forests, as well as deciduous and mountain habitats.
As their name suggests, they have grey, brown, or black fur coats with completely dark black faces. They have slender builds with long arms, legs, and tails.
These monkeys are always found in groups, and they are known to form three types of recognized groups.
---
9) Howler Monkey
| | |
| --- | --- |
| Scientific Name | Alouatta |
| Size | 56 to 92 cm (22 to 36 in). |
| Fur Color | Shiny black/brown and blonde. |
| Life Span | 15-20 years |
| Location | South and central American forests. |
| Diet | Leaves, fruits, nuts, and flowers. |
Howler Monkeys are known for their howling or cacophonous cries as they are the loudest monkeys alive, which also makes them look quite dreadful and can be heard from 3 miles away.
They are the largest New World Monkeys and have muscular bodies with long arms and legs and well-defined digits.
These monkeys have dense hair on the body and tail, and their prehensile tails, which are hairless at the tips, are used for grasping branches.
---
10) Black-and-white Colobus Monkey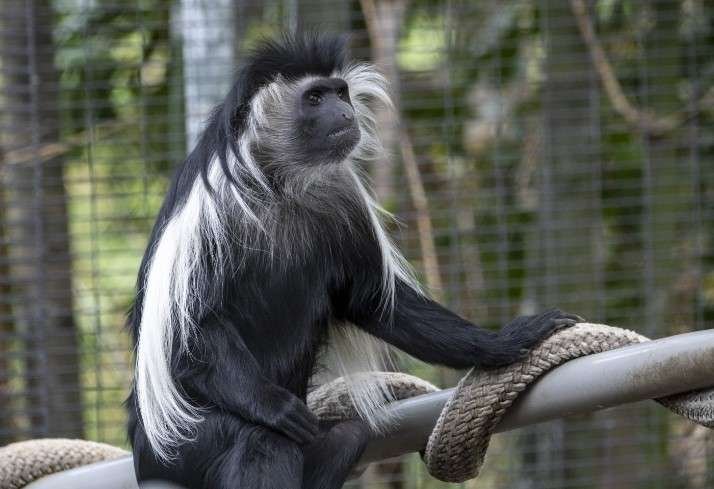 | | |
| --- | --- |
| Scientific Name | Colobus |
| Size | 17 to 28 inches. |
| Fur Color | Black and white. |
| Life Span | Up to 30 years. |
| Location | Kenya |
| Diet | Unripe fruits, flowers, seeds, and bark. |
Black-and-white Colobus Monkeys are popular for their looks, as they have whiskers, a distinctive U-shaped mantle consisting of very long, shiny white hair that flaunts on their shoulders and backs, and a bushy tail.
Moreover, they are thick and stocky and have long arms and legs along with long tails.
A striking feature about them is the presence of a ruminant-like digestive system, as their diet consists mainly of leaves.
They perform several greeting rituals and live in territorial groups.
---
Conclusion:
Monkeys surely astonish us with their skills, adaptability, and behaviors. Their highly cordial nature and understanding of each other is surely something that we humans need to learn from them. I hope you like our article and subscribe to us for more amazing posts.
---
Also Read: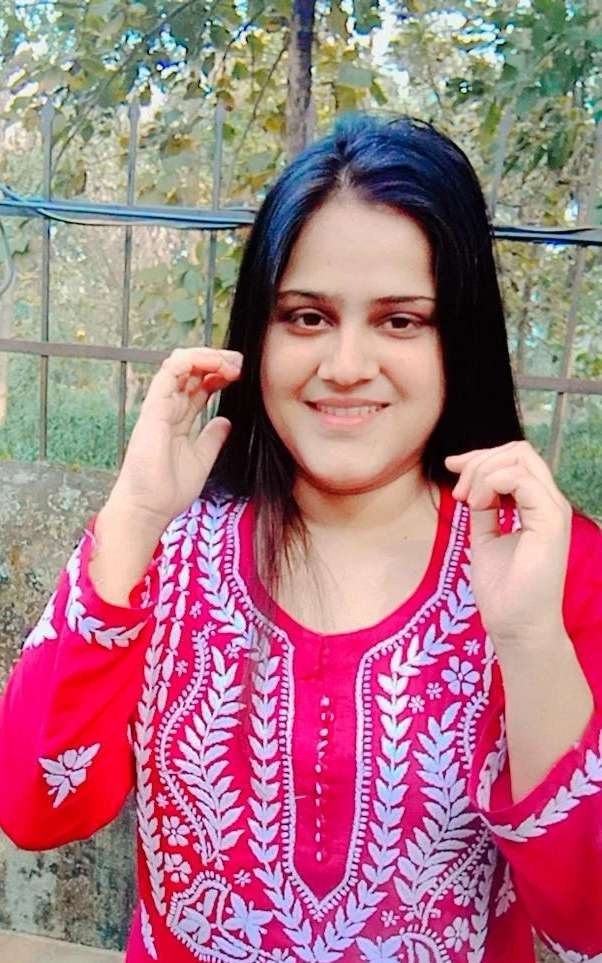 Hey there! I've been the kid who used to love watching all the science stuff and that fascination lead me to choose Zoology as my Major in Graduation. I'm a self-taught writer and spend my time writing scintillating content on animals. I love observing animals behavior and their bond with humans. I want to give my point of view regarding animals i research about. I had done several projects on animals during my graduation and learned their behavior thoroughly.